Flags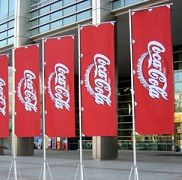 Advertising or promotional flags come in all shapes, sizes, colors and materials. They can be custom printed with your company's logo or message or pre-printed with a generic image or text. No matter what they look like, they all have something in common. They are a great way to promote your business, publicize an event or sale or announce a new product and help your business get noticed!
In addition to making a big impact, advertising flags have many advantages. They are cost effective (especially) when compared to traditional print or direct mail. Flags are easily transported to a trade show or can be stored away for next year's seasonal promotion. They can be colorful, eye-catching and create a festive and inviting atmosphere for your store or trade show booth.
Signarama of Huntington offers a huge selection of custom and pre-printed promotional flags in all colors, shapes and sizes.