Wall
View Our Wall Graphics Gallery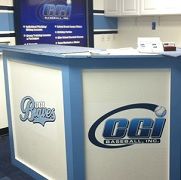 Wall graphics are an ever-popular solution for visual advertising, branding and sales promotion. Wall graphics have a significant role beyond public awareness. They provide branding and communication of your product and service directly to your client at the point of purchase. Wall graphics are perfect for interior point-of-purchase locations, high-traffic areas, waiting rooms, and service areas. And, whether it be permanent or seasonal, Signarama of Huntington has the solution.
Graphic wall displays can make a bare wall fun and exciting and give your business the opportunity to display your company mission statement or logo in a creative way. You can put a giant map of your distribution areas on the wall or list some core facts about your company, or at the very least try branding the space with your logo. Add a timeline of your company history along a hallway to inform clients of your rich company history. In any case, the use of creative, custom decals and murals in a space that is often left blank will definitely stand out in the minds of potential customers.
Signarama of Huntington has helped many of our customers redecorate their store interior for sales, holidays and clearance events, or to coincide with peak purchasing trends. Our designers work with our customers to establish the finest design and message that will impact and inspire your customers. Vibrant colors that resist fading and peeling are standard issue at Signarama of Huntington. Let us guide you through the process from wish list, to design, to approval, and installation. We know you will be pleased with our results!