Repairs & Service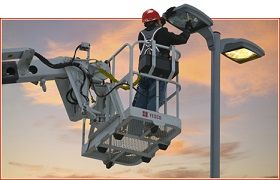 At Signarama of Huntington, we understand that sign maintenance is critical to the overall image of your company. Poor lighting, peeling paint, and faded images on a sign can send the wrong message to customers. In addition, a properly maintained sign can help you avoid major repairs and expensive replacement costs in the future.
That is why Signarama of Huntington has partnered with YESCO New York to provide it's clients with cost-effective sign service maintenance, to ensure that the appearance of your signs safeguards your company's image and reminds your customers of the high quality that sets you apart from competitors. When customers see your well-maintained signs, they will know you mean business.
All of YESCO New York's service technicians are trained to diagnose problems quickly and to deliver fast, accurate service to get your sign back in working order. YESCO New York's trucks carry an inventory of commonly used items to repair your sign; often eliminating the need for a second service trip to obtain necessary parts.
Visit YESCO New York's Website for more information or to schedule an appointment.