Carved & Sandblasted
View Our Carved & Sandblasted Gallery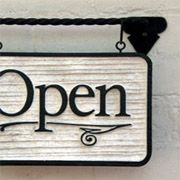 Nothing says professional more than a carved or sandblasted sign. The simple elegance and traditional look of a carved sign can speak volumes about a business before the customer even walks through the door. A company sign is often the first impression a customer makes about a business, so it should be a positive one.
Sandblasted or carved signs often serve two purposes. First is to state the name of the company or business, and second to convey the company brand in an artistic way. For this reason, many businesses find this to be a good fit and choose this type of signage. In this competitive market, companies only get one chance to make a good first impression. The artistic creativity allowed with this type of sign can make an impression even in those just passing by.
Using the carved/sandblasting method allows Signarama of Huntington to create many shapes and artistic effects that may not be achieved with other types of signs. This creativity makes for a unique sign fabrication. And, when potential customers see these signs, they have a tendency to remember the name, which of course is good for your business.
Signarama of Huntington's sandblasted and carved signs are created in several stages. A great deal of craftsmanship and skill goes into each step of the process. Once the sandblasting is done, colors can be added, as well as other artistic features. There are many options to choose from detailed graphics and edging to bold or mild colors.
In any case, when you choose a carved sign for your business, the end result is a durable and creative sign that can proudly be displayed outside of any business establishment. Contact Signarama of Huntington today to create a carved sign that will be sure to make a positive impression for your business.