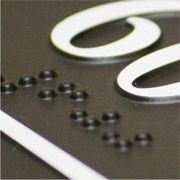 Businesses and common spaces of all types are required by law to adhere to the ADA (Americans with Disabilities Act). This Act regulates accessibility for disabled Americans and specifically requires signage that is easy to read visually and through tactile touch (e.g. Braille.)
Signarama of Huntington's staff are experts at assessing your company's needs for these mandated sign systems. We can arrange to do a site survey and evaluate your signage for compliance to ADA local and federal rules. Sign solutions can be as simple as replacing/adding to your existing ADA signage or creating a program from start to finish.
Trust Signarama of Huntington to be your guide through ADA regulations and requirements for your business.