Vinyl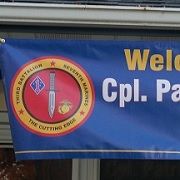 Vinyl banners are great for both indoor and outdoor use and can help generate traffic, promote and sell products, or identify your business. Signarama of Huntington's vinyl banners are our most popular, versatile, and cost effective type of signage among businesses today. They give your business a high impact promotion at a low budget cost.
These great attention-getters are especially well-suited for short-term use, annual event reuse, or for outdoor advertising in high traffic areas. Signarama of Huntington's banners are light-weight which makes them easily installed, transported or stored for later use.
At Signarama of Huntington, the limitless size and color options of our vinyl banners allow your business to create a one-of-a-kind look.
SIGNARAMA of Huntington's team of graphic designers take into account your message, size of the banner, and size of letters needed for proper reading at the viewing distance. They will design your banner layout to have the most impact, use colors that work well together, and will use other strategies to help your message pop on your custom vinyl banner.