Sidewalk & A-Frame
View Sidewalk & A-frame Gallery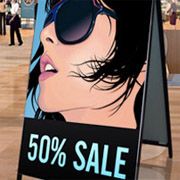 Business owners and marketers realize now more than ever the importance of targeted messaging and specifically delivering messages through multiple channels to reach prospective clients. This can not only be overwhelming, but also extremely expensive. Sidewalk signs are a cost effective form of advertising that can deliver multiple messages at one time and can bring your message to your customer right on the street! Passerby visibility is outstanding when your message can be positioned to "meet" your customer needs at the storefront level.
Signarama of Huntington offers a vast assortment of sidewalk signs including A-frame signs, temporary signs, sandwich boards, discount signs, dry erase signs, changeable letter signs, custom signs, and wood signs for use at the storefront.
All of our sidewalk signs are custom made at Signarama of Huntington to counterpart your company branding, yet affordable and specific to your needs. Sidewalk signs can be fashioned with differing weight systems for easy transportation or storage during non-business hours. This means that your sign is portable, and you can easily move it to where impact and viewership will be greatest, as well as put it in a safe place when your business closes for the day/night. Some of Signarama of Huntington's sidewalk signs are equipped with flexible wind management components to keep the sign upright during inclement weather. We have also incorporated reflective material for graphics, enabling viewers to read the signs even at night!
Signarama of Huntington's sidewalk signs are made with the highest grade materials and graphics to yield a long-lasting method by which you can promote your business. We make sure that your investment will withstand inclement weather and will help your business get noticed even in rain or snow!
Contact the design team at Signarama of Huntington to purchase your sign or you can order and design your sidewalk sign online using our online design tools.