Directories & Wayfinding
View Our Directories & Wayfinding Signs Gallery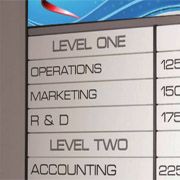 Directing and informing visitors is an important aspect of moving traffic around and through a property. Signarama of Huntington's way finding signs and directories are used in many facets of the customer experience including the parking lot, lobby and corridors of your building or office. Well-executed directional signs can add to the decor and also make it easy for customers to find locations in and around a building. Signarama of Huntington understands your need for such signs and can make them fit in seamlessly with your business brand or company image.
Here at Signarama of Huntington, we use high-grade materials to produce way finding signs and directories. Our goal is to produce long lasting way finding and directory signs that will perform with minimal maintenance for years to come.
In addition to a variety of materials to select from, Signarama of Huntington's signs can be produced using many methods such as sandblasted, router, engraved, and made with vinyl letters. Signarama of Huntington uses so many different methods which gives us the ability to create a consistent look or theme with your existing signs. The materials used also allow us to provide weather resistant signs that will endure the effects of the elements.
Call us at Signarama of Huntington so that we can help you through the selection process and so that your signs are not only helpful but also enforce your company branding.