Maintenance Contracts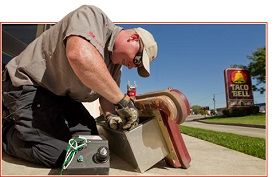 Recognizing that permanent outdoor signs often need regular maintenance, Signarama of Huntington sister company, YESCO New York offers annual maintenance contracts to proactively address this need. A maintenance contract is often more cost-effective then paying for an individual service call every time your sign needs repair.
A maintenance contract ensures that we'll visit regularly to make certain that your signs appear and operate like new. YESCO New York's trucks are equipped with parts such as neon tubing, transformers, ballasts, lamps, electronic drivers and other replacement sign components that make repairs quick and easy. A maintenance contract eliminates costly internal paperwork, approvals for repairs and embarrassing outages.
Visit YESCO New York's Website for more information or to schedule an appointment.