Plaques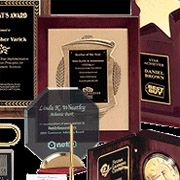 Not only do we make all types of signs at Signarama of Huntington, we also provide accessories to help you display and protect important documents or information for your business or home.
Signarama of Huntington offers plastic-laminated wood plaques that preserve and frame your important documents. These plaques are ideal for awards, certificates, news articles, diplomas, or any valuable document that you would like to display. We have a large variety of wood colors to choose from, plus we offer a scalloped bevel for an additional defining detail. Signarama of Huntington's plaques are either easel- or cord-backed for display purposes and convenience.
Please contact one of Signarama of Huntington's representatives for specific size and color choices available.