Real Estate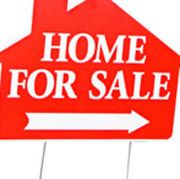 Whether you are a Realtor with a house to sell, or a property manager trying to lease space, getting the message to as many people as possible is always the goal. Signarama of Huntington's real estate signs will help get you get the exposure you need.
In addition to being a perfect choice for on-site promotion, real estate signs are one of the most economical means of advertising available today. Signarama of Huntington provides a large selection of pre-designed real estate sign templates as well as an option to design your own custom sign from scratch. No matter what your budget is, there are many choices of materials available ranging from corrugated plastic to wood and metal options. Signarama of Huntington offers real estate signs in standard sizes (as small as 6 inches) to over-sized custom signs to accommodate all your advertising needs.
Real estate signs also have the advantage of being easily updated. It's not uncommon for Signarama of Huntington to change signs as a project progresses towards completion. The ongoing sales status of houses or unit availability, change of phone number, or contact information can be revised without difficulty.
Signarama of Huntington can produce one real estate sign, or can help you develop a custom package of multiple signs. Often, real estate signs are installed liberally on the premises, with one facing each direction that potential buyers could be coming from to get the greatest impact from your signage.
Here at Signarama of Huntington, not only do we offer customized signs with your name and logo and company colors, but we use durable materials that help our digital graphics withstand inclement weather and day-to-day abuse.
Get in touch with Signarama of Huntington to create impactful real estate signs that make a difference. Remember that curb appeal starts with great signs!