Point of Purchase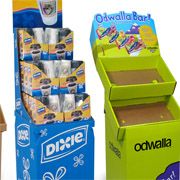 There's nothing that drives sales more than attention-getting POP (also known as point-of-purchase) signs. Whether you are having a sale and need to generate foot traffic or you simply need an attractive easy to read sign that promotes a specific product or offering within your business, POP Signage is an effective way of creating excitement and highlighting promotions. When positioned correctly, POP signs can even influence customers buying behavior, more often than not, resulting in impulsive buys and increased sales.
Depending on the type of products you are aiming to display, the size of your retail space and the predefined store branding, Signarama of Huntington has many options available to match your POP needs and budget. Floor standing displays are designed to be placed on the retail floor and are versatile in size, shape and style. Counter top POP displays are smaller displays mostly found on top of counters or on end caps. More elaborate POP signage can include digital, LCD or neon signage.
When designed effectively, POP displays throughout your business can help you differentiate yourself from others and can make a lasting impression on your customer. A creative and eye-catching POP display can persuade customers to stay longer or come back to purchase more. Signarama of Huntington can help you design a custom POP display that will strengthen your brand and highlight a consistent message in every location to attract a deeper level of attention from customers.
From large fabric pop-up displays to small product specific signs, Signarama of Huntington offers an array of Point of Purchase signage that is specifically designed to meet your company's unique demands. Contact Signarama of Huntington to get started creating an eye-catching merchandising display that will help your business get noticed!