Architectural & Building Signage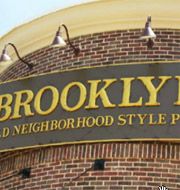 Architectural and building signage for your business does more than just direct a customer where to go. Signs should set a tone and feel for your business that can help customers feel safe, welcome, and relaxed. A good architectural or business sign should help attract new customers, brand your business, and enhance the look of a community and surrounding areas. In addition, signs serve as a type of silent salesperson for your business. A creative, attractive sign can help your business stand apart from the competition. Customers are more likely to purchase from a business they have already heard of, so a sign can help plant the seed for future sales.
Signs are an essential component of a business's overall marketing strategy. For businesses that have limited marketing funds, signs can be a cost-effective form of marketing. The return on investment can be much higher for signage than from other types of advertising, such as radio, televisions and newspapers. Because an exterior sign is visible 24 hours a day, 365 days a year, its effect is continuous.
At SIGNARAMA of Huntington, the possibilities are endless when it comes to creating architectural and buildings signs. We are experts in helping you design a sign that reflects your brand and sets you apart from your competition. From channel lettering, to illuminated light boxes, to neon creations and one-of-a kind custom signs that combine the multitude of products that we offer, SIGNARAMA of Huntington prides itself on helping your business make a statement with its signage.
Architectural and building signs can be ground-mounted or building-mounted at SIGNARAMA of Huntington. Ground-mounted or monument signs can take on a variety of shapes and sizes, and are typically mounted near a road to attract the attention of passing motorists. Building-mounted signs are attached to the place of business and may be useful in areas where foot traffic is prevalent, such as a downtown shopping area.
So whether you are starting a new business, striving for a more professional appearance for your business , or re-creating the look and feel of your brand, SIGNARAMA of Huntington can help you achieve your goals. Contact SIGNARAMA of Huntington to see how we can help you create an architectural or building sign that will impact your business.