Electronic Message Centers & Scoreboards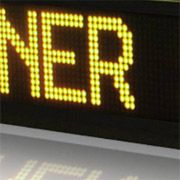 In today's world, visual advertising is key. Electronic Message Centers and Scoreboards are an eye-catching, dynamic way to advertise your business, special sales or events. Popular with many schools, churches, and event centers, these displays utilize highly advanced technologies to grab attention, day or night.
These digital displays provide the most flexible solution available for a dynamic advertising medium or a source of community information. They feature programmable text messages and high-powered digital graphic images. Your message or image is easily modified according to your needs.
Electronic signs come in a variety of sizes and types and can be used indoors or outside. They help you reach new customers by advertising targeted messages to drive-by or pedestrian traffic, and can also serve as a point of purchase display to broadcast today's latest promotions or to encourage add-on product buying. Contact SIGNARAMA of Huntington's experts in message centers to discuss the available options and to get you started with your Electronic message center or scoreboard.