Engraved Signs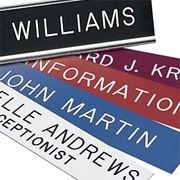 Engraved signs are a durable, resistant and economical solution for your personal and/or business signage needs. Engraved signs are commonly used for interior signs and will easily fit in small spaces providing instant directions, advice or reminders to your clients. SIGNARAMA of Huntington's engraved signs help free up personnel from having to keep giving out information repeatedly, leaving them with more time to focus on more important tasks. And successful office signs shouldn't cost a lot to give you these results and more.
At SIGNARAMA of Huntington, custom engraving is available in many different materials and colors depending on your individual needs. Material choices include various colored plastics, metal, glass, and brass. Laser engraving is also available and can add extra detail to your custom signs.
Whether it is for a single nameplate or multiple directional signs, SIGNARAMA of Huntington is pleased to offer a personal consultation on your engraving needs. Call us to speak directly with one of our in-house designers.