Illuminated Signage & Lightboxes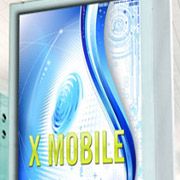 Illuminated signs are one of the most eye-catching and sophisticated options for signage available in the industry today. Businesses of all types, from "big box" companies, to fuel stations and department stores use Illuminated signs to make an impact- day or night. Illuminated signs & Light boxes are the perfect solution for business owners that want to bring attention to particular aspect of their business, or who want to stand out more easily once it gets dark out or during the winter months.
The options available for Illuminated signs make them so versatile that they can be easily customized and used anywhere. They can help your business to advertise a given product or service, relay specific information to your customers, or even identify your business location. The flexibility that illuminated signs provide makes it easy to give a boost to any particular area of your business.
From basic light-box message centers to sophisticated illuminated electronic digital signage (EDS), SIGNARAMA of Huntington offers the most comprehensive selection of illuminated signage available in the industry today. SIGNARAMA of Huntington even offers back lit signs that turn or have multi-messages which are ideal when you want to change your message periodically.
Let our sign experts at SIGNARAMA of Huntington recommend and design illuminated signage that meets your needs and budget. Nothing makes more of an impact than illuminated signs, both day and night!