Magnetic Signs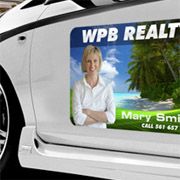 Instantly turn your vehicle into a mini-billboard with magnetic signs. Custom vehicle magnetics deliver a powerful message and can be removed easily from your personal vehicle or shared among several vehicles. This feature and the relatively inexpensive cost of these effective advertisements are what make magnetic signs so popular.
SIGNARAMA of Huntington uses the finest quality materials that are weather resistant and UV (ultra violet) resistant to avoid fading. Customers are encouraged to purchase magnetic signs in quantities of three: driver's side, passenger's side, and rear. The rear magnetic sign enjoys more readership than the side pair, which is why this is often recommended by our professional staff.
For night use, SIGNARAMA of Huntington can create your magnetic signs using reflective material. Reflective material allows light from headlamps to illuminate your company's message and logos even in the dark! This is a popular upgrade to many magnetic sign orders.
Vehicle magnetics are usually sold in sizes such as 12" x 18", 12" x 24", 18" x 24". It is important to consider where the placement of your magnetic signs will be on the vehicle when choosing a size and our designers can help you with that decision. If you're interested in learning more about magnetic signs for your vehicles, contact SIGNARAMA of Huntington.