Trade Show & Event Displays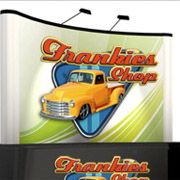 In today's competitive market, many businesses are realizing the numerous advantages of trade show and event marketing. Trade show and event marketing are both great platforms for lead generation, company branding, launching a new product or service, promotion and collecting market research. However, if your trade show display doesn't have great graphics and a crystal clear message, all these benefits really won't matter. Our designers at SIGNARAMA of Huntington are experts in trade show displays and can help you create an eye-catching display that helps you get the attention your company needs at its next trade show or event.
When designing trade show displays there are many options to consider such as portability, ease of set up and break down, manufacturing costs, price to ship, etc. At SIGNARAMA of Huntington, our expert designers can help you through the selection process and find a display that fits all of your needs with budget in mind. Some of our most popular displays include retractable banner stands and pop-up fabric displays. SIGNARAMA of Huntington offers some of the easiest and most portable trade show displays that make set-up and break-down a cinch!
Our wide selection of fonts, colors, and symbols lets us produce graphics that really STAND OUT! In addition, our specialized digital printing and dye-sublimation process creates images that are richer in color to typical displays and in turn are more appealing. Additionally, our fabric displays eliminate the possibility of glare or scratched finishes.
With our fast turnaround times, even presentations that have to be prepared in a hurry can have a lasting, professional impact. So, make sure you make the most of your trade show and event marketing by calling SIGNARAMA of Huntington for all your trade show needs!