Vehicle Wraps & Graphics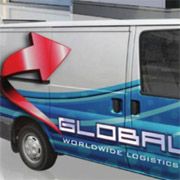 Business is mobile, and advertising is everywhere you look. And, there's no bigger return on your advertising investment than custom vehicle logos and graphics. To make an even bigger splash, SIGNARAMA of Huntington can wrap your entire vehicle with a custom, full-color design. Vehicle graphics deliver added exposure on the job or around the community, 24 hours a day and will help you showcase your business or message to the community.
Since all makes and models are sized differently, SIGNARAMA of Huntington tailors your vehicle graphics to your specific car or vehicle. Our software helps our designers create the signature look you'll become known for in your community. Special considerations for paint striping, body molding, and color matching are taken by the experts at SIGNARAMA of Huntington.
We also have materials that can be taken on and off by the customer or applied more permanently to the car or vehicle. Reflective materials deliver added exposure when you drive at night. These graphics "catch" the light from headlights on the road and make your graphics or message "light up."
SIGNARAMA has the expertise and experience to design your car graphics for maximum exposure. Call us and we can help you design a vehicle wrap or graphic to fit any budget.