Window & Wall Graphics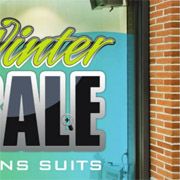 Window and wall graphics are an ever-popular solution for visual street advertising, branding and sales promotion. Window and wall graphics have a significant role beyond public awareness. They provide branding and communication of your product and service directly to your client at the point of purchase. In addition to creating a visual display, window graphics also can help with privacy and security needs and reduction of heat and solar glare.
Window and wall graphics are perfect for exterior and interior point-of-purchase locations, high-traffic areas, waiting rooms, and service areas. If you need to display an entire wall with your company image, or if it's information, directory listings, store hours, or services rendered that need a boost, we can help. And, whether it be permanent or seasonal, SIGNARAMA of Huntington has the solution. We have helped many of our customers redecorate their storefront glass and walls for sales, holidays and clearance events, or to coincide with peak purchasing trends.
At SIGNARAMA of Huntington, our designers work with our customers to establish the finest design and message that will impact and inspire your customers. Our window and wall graphics start with long-term use materials that do not crack or peel when exposed to the extremes of weather. Vibrant colors that resist fading and peeling are standard issue at SIGNARAMA of Huntington.
Let SIGNARAMA of Huntington guide you through the process from wish list, to design, to approval, and installation. We know you will be pleased with our results!